My enduring images of Manny Ramirez aren't just the tar-stained batting helmet with the long dreadlocks hanging over his uniform nameplate, the line drives and the home runs, the controversies about his hustle or his drug suspension.


[+] Enlarge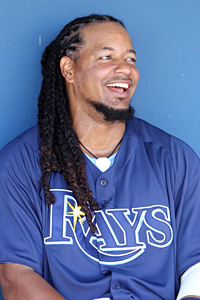 Kim Klement/US PresswireSlugger Manny Ramirez played the game with a smile at evey one of his career stops.
They're also the smile of a guy who once took a bathroom break inside the Green Monster during a pitching change; the guy who ran on the field at Fenway Park carrying an American flag after becoming a U.S. citizen; the guy who once played with a water bottle in his back pocket and once put his grill up for sale on eBay, complete with personal photos. The guy who I once saw put dollar bills in his pocket after fans in Boston littered the field with money. (I've forgotten what caused them to throw money in the first place.) Years ago, when he was still with Cleveland, I was writing a story on the Indians, and in the clubhouse before a game in Seattle, the entire team (including manager Mike Hargrove) was watching one of the "Major League" movies on an overhanging television.
Except Manny. He sat back at his locker, huge headphones on, singing -- as always -- to his own beat.
Manny being Manny became a joke, but Manny the hitter was no joke. He worked pitchers, finessed at-bats, remembered what got him out earlier in games and was ready to deliver some big-time damage if the pitcher tried the same approach again. He's one of the greatest right-handed hitters of all time, one of baseball's supreme RBI guys, a terrific playoff performer and -- yes -- perhaps the most iconoclastic player of the past quarter century.
I'm going to miss him. Baseball is a long, slow grind, full of players often indistinguishable from one another. Manny made the sport more entertaining, and I don't think you'll find too many Indians or Red Sox fans who will tell you they wouldn't have wanted him on their teams.

Is he a Hall of Famer? In my book, absolutely. The steroids issue doesn't affect my reasoning, although it will certainly put a chokehold on his candidacy when he comes up for election. But I hope the smart voters won't ignore the numbers, since we can't pretend they didn't happen:
555 home runs, 14th all time.
1,831 RBIs, 18th all time, including 12 seasons of 100-plus. Only Alex Rodriguez, Babe Ruth, Jimmie Foxx and Lou Gehrig had more 100-RBI seasons.
His 165 RBIs with Cleveland in 1999 remain the most since 1938. He hit .333 and led the AL with a .663 slugging percentage. He hit .377 with a .743 slugging percentage with men on base.
His adjusted OPS (OPS+) from Baseball-Reference is 25th all time at 154, the same as Frank Robinson's, and just below the 155 of Hank Aaron, Joe DiMaggio and Willie Mays. That puts him 11th among all right-handed batters.
He won a home run title, an RBI title, a batting title and three times led his league in on-base percentage or slugging percentage.